Walkers and cyclists have endless opportunities to get into Whanganui's beautiful natural environment.
Down load the Whanganui Walking & Cycling Guide
Rotokawau Virginia Lake
(30-min walk)
The easy 2km track around the lake takes you past the Band Rotunda, twin bridges, wisteria pergolas and public art. The park also encourages visitors to explore, with an Aviary, Winter Gardens and Art Garden on site.
8-min drive from i-SITE Whanganui
Rotomokoia/Westmere Lake
(30-min walk)
A great outing for families, this easy 1.7km loop winds through woodlands and around the shores of Westmere Lake. The area is a designated wildlife refuge and is home to native birds and  water fowl.
10-min drive from i-SITE Whanganui
Gordon Park Scenic Reserve
This short loop takes you along a well-formed track through native podocarp-hardwood forest. The reserve is home to native birds and is an excellent picnic spot.
10-min drive from i-SITE Whanganui
Paloma Gardens
These private gardens have been landscaped with plants from around the world and have been awarded 'Garden of National Significance' by the NZ Gardens Trust. Explore the whimsically themed sections, scattered with outdoor art. There is a $10 entry fee.
20-min drive from i-SITE Whanganui
Bason Botanic Gardens
The Bason Botanic Gardens, rated a 'Garden of Regional Significance' by the New Zealand Gardens Trust, covers 25-hectares. Explore the English Garden, the Mediterranean plantings, the Native Wetlands and more. Expansive lawns, free gas BBQs, picnic tables and a three-hole disc golf course make this an ideal spot for picnics.
15-min drive from i-SITE Whanganui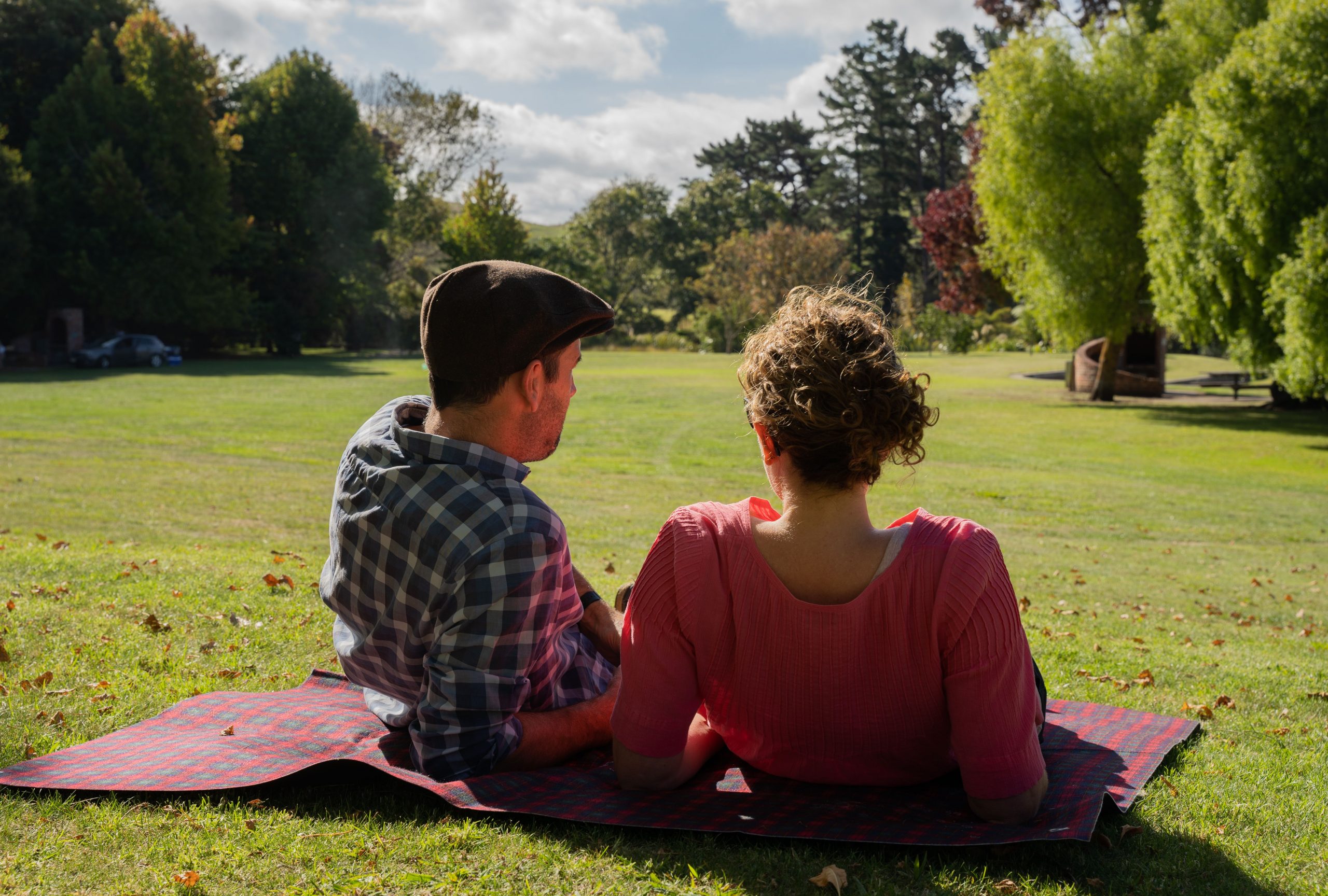 Bushy Park Homestead Tarapuruhi
This predator-free reserve features 5km of well-marked, easy walking paths through native lowland forest and wetlands. Ranked as one of Australasia's top conservation projects, you're  likely to encounter rare native birds even on short walks. The forest is open during daylight hours but self-contained motorhomes, camping or accommodation in the Edwardian homestead  an be arranged. No dogs permitted.
30-min drive From i-SITE Whanganui
Waitahinga Trails
The Waitahinga Trails are shaded by native forest canopy and feature picnic areas and look-outs along the way. On a clear day there are great views of Taranaki and Mt Ruapehu. The  Emerald Waitahinga Dam, built in 1904, is a worthwhile destination for more advanced walkers. The Picnic Dell route 10 minutes from the carpark. The Chicken Run route 1-hour return easy walk. Cropper's Clearing route 90-minute return easy walk. Waitahinga Dam route 4 to 5 hours return with steep climbs.
45-min drive from i-SITE Whanganui
Ātene Skyline Track & Viewpoint Walk
2 hours or 6-8 hours
For more serious walkers, the Ātene Skyline Track is a six to eight hour round trip hike through a small accessible section of Whanganui National Park. The walk includes some steep climbs, which are rewarded with good views. A free campsite midway provides shelter. The Viewpoint Walk is a two-hour walk to a lookout point. From here you can see views of the cut-off meander of the old Whanganui River bed. Return the same way.
50-min drive from i-SITE Whanganui 
Westmere Walkway
The rural Westmere Walkway cuts through private farmland. Some sections are steep and the track requires a moderate level of fitness, however you'll be rewarded with sweeping views of farmland, the Whanganui River valley and the city. Expect to experience livestock, uneven ground, mud and unfenced water.
6-min drive from i-SITE Whanganui
Round the Bridges
This picturesque 1-3 hour route runs over footpaths and boardwalks along the Whanganui River. You can do a circuit of all three of the city's bridges or choose a shorter circuit. Cobham (SH3) & Whanganui City Bridge Circuit route 3.6km, 1 hour Whanganui City & Dublin St Bridge Circuit route 4.2km, 1 ¼ hour Dublin St & Railway Bridge Circuit route 3.3km, 1 hour Cobham, Whanganui & Dublin St Bridge route 10.5km, 3 hours The section between the Dublin St Bridge and the City Bridge on the city side of the river is wheelchair accessible.
If you want to extend your walk, you can also turn off Somme Parade at Halswell St and walk up the treelined street and up St Johns Hill along the Peat Park Deer Sanctuary. Follow Virginia Rd to Rotokawau Virginia Lake.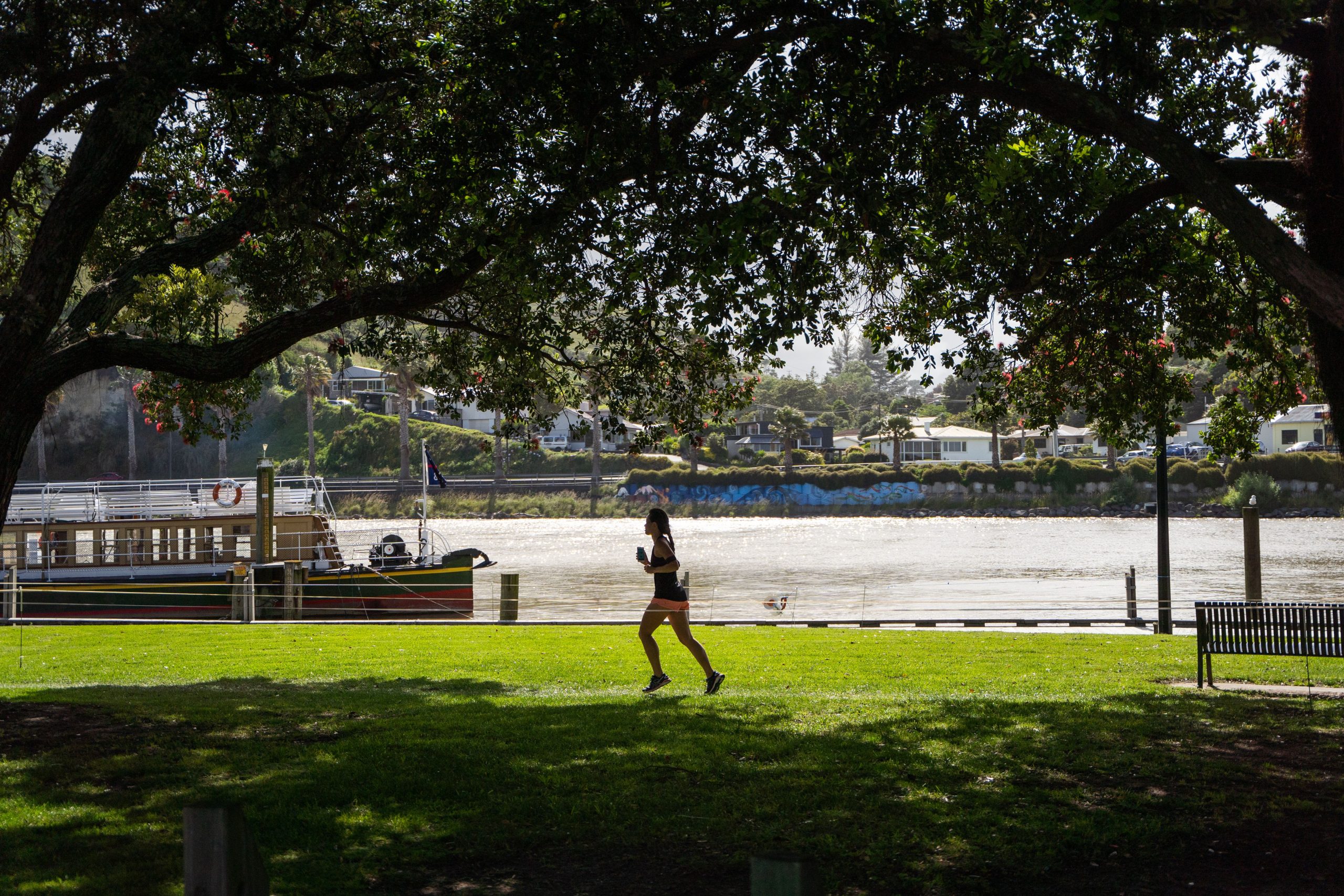 Bastia Hill
1 ¼ hours
This loop takes you up Bastia Hill to the iconic water tower and offers remarkable views of the city. Start at the base of Georgetti Rd, turn left into Wairere, right at Mt View Rd and left into  Bastia Ave. Return the way you came or continue on Mt View Rd to the hillside walkway down to Ikatara Rd. At the top, you'll get an up-close look at the Roman-inspired water tower, built in 1927 (water tower is not open to the public). The path is steep and may require a moderate level of fitness.
Durie Hill Tower + Elevator
20 minutes
Visit the iconic Durie Hill War Memorial Tower (free entry) via the unique Durie Hill Elevator. Enter through the carved gateway and walk the 213m tunnel to the elevator. Built in 1919, the elevator is still used daily by commuters ($2/adult, $1/child one way – cash only). At the top, you can take in panoramic views of the city, the river and the harbour from the elevator's viewing platform or climb to the top of the nearby Memorial Tower. Complete the circuit by coming down the steps to the City Bridge.
Castlecliff Beach
Castlecliff Beach can be reached via a short drive from town or a bike ride along the riverside path. The North Mole, where the Whanganui River meets the sea, is a popular fishing and surfing spot, and trails through the sand dunes are good
for exploring.
15-min drive from i-SITE Whanganui
Kai Iwi Beach
Kai Iwi Beach, Mowhanau Village is 15km west of Whanganui. A big playground, shallow stream and wood-burning BBQs make this popular swimming beach a great destination for families. At low tide you can walk all the way to Castlecliff Beach (2-3 hours one way) or Okehu Stream (about 2 hours).
20-min drive from i-SITE Whanganui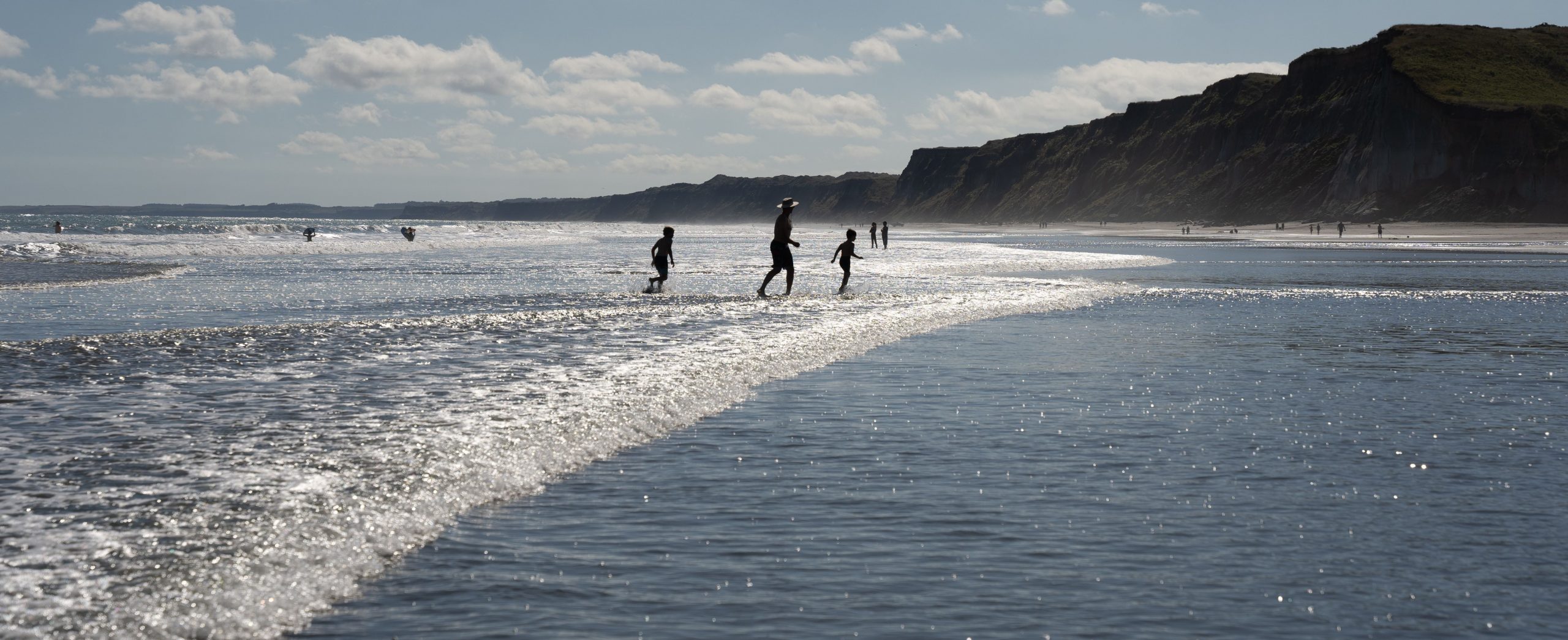 Ototoka Beach
Park on the cliff tops and pass by a small waterfall on your way to the beach. At the bottom of the trail, you'll find pristine black sand to explore.
route 30 Min Drive From i-SITE Whanganui
South Beach
Adjacent to Whanganui Airport is South Beach. When the tide goes out, South Beach is a 20km stretch of sand perfect for walking, fishing and swimming.
route 10 Min Drive From i-SITE Whanganui
Springvale Pump Track
The pump track is a circuit of sealed rollers, berms and jumps that loops back on itself. It includes senior and junior tracks, two permanent shade areas and a learn-to-ride track for young children to practice safe cycling and scootering.
7-min drive from i-SITE Whanganui
Araheke Mountain Bike Park
Easy-Grade 2, Intermediate-Grade 3
Ideal for families and young children, a grand circuit of 10km covers trails in two separate areas (Wiritoa and Pauri) connected by a short section of road. Pauri provides the easiest trails and is the best for children. All trails are signposted and numbered to form a continuous loop. Easy short loops are identified by road marker poles. A couple of hill climbs reward bikers with wonderful views. Sand-based Wiritoa and Pauri tracks provide all-weather riding.
10-min drive from i-SITE Whanganui
Hylton Park
Easy-Advanced: Grade 2-4
Hylton Park offers the rider a bit of everything packed into a series of linked tracks containing short climbs and descents, and featuring a professionally built flow trail (Shredder). In total the trails make up a 9.3km loop overall. The trails are great for beginner and intermediate riders. Please respect the trails during wet conditions.
8 -min drive from i-SITE Whanganui
That Place
That Place is a small private mountain bike park situated 30 minutes north of Whanganui city. To get there turn left on Kaiwhaiki Rd. You'll find That Place at the end of the gravel road  (approximately 10km) There are a range of intermediate to advanced trails and a flat loop for beginners. The park offers guiding, coaching and access to the mountain bike park. The space is also available to walkers, runners and campers. Access to the park is thorough a booking system at www.that-place.co.nz
20-min drive from i-SITE Whanganui

THAT PLACE TRAILS
route Total Distance 3.4km
NO REGRETS G3 An easy uphill climb through native bush and newly
planted trees.
PHIBILIE GIBLETS G3+ This is the trail where it all started. Some
jumps and berms. Get some speed and air or you can roll the features.
SLAMINGTONS G3 Low trail that sidles along the face of the hill with
small roller and bermed corners at a mellow grade.
LAMINGTONS G3 A gentle flow trail that bobs and weaves its way
down the hill.
SLIM SHANDY G4 A dirt rollercoaster with some dropping corners
and roll-offs. Small transitions and other features that keep it spicy.
BERMIE SANDERS G4 A high-speed ridge run with a mix of sandy
and clay berms. Expect a little bit of air time to play with.
ROBINS WOOD G5 Tech single track.
THE FLAT LOOP G2 This is a family friendly loop around the orchard
and along the river.
WIRITOA AREA
route Total Distance 3.4km
RIVER RUN 460m. Easy road single
track.
EEYORE GULLY 680m. Single
undulating track with three optional
harder loops.
LONGFIN LOOP 280m. Intermediate
loop.
JUNCTION Option for easy "short' or
"long" hard intermediate loop.
L'IL RIPPER 450m. Intermediate loop
with short and long (more difficult)
option.
TUNA 810m. Intermediate.
RIDGE LOOP 425m. Hard intermediate
great roller coaster fun and easier
"short cut".
GORSE ALLEY 280m. Easy
Intermediate.
LINK Connecting areas road. 260m,
Scoutlands Track 210m.
PAURI AREA
route Total Distance 5.3km
ALCATRAZ 600m. Intermediate.
KATIPO 700m. Intermediate loop. Turn right and follow road for 70m.
LAKES VIEW 780m. Hard intermediate with an easy short loop. There is an easy short route, go back left along road for 70m.
DRAGON WIGGLES Easy with optional exit to Pauri Rd.
DRAGON RIDGE 780m for all of Dragon. Hard intermediate with moderate hills and great roller coaster.
PAURI 870m. Easy on flats plus harder short loop. From Pauri Rd onto side ridge easy intermediate.
JUNGLE JINX Easy intermediate.
JUNGLE JUJU 1120m for all of Jungle. Easy Intermediate.
LINK Connecting road. 260m, Scoutlands Track 210m.