Kowhai Park
"World-famous in New Zealand", Kowhai Park in Whanganui has been delighting children for decades. This vast playground has modern play equipment alongside well-loved favourites generations have played on. Parents who played there while young bring their children back to experience the same fun! Ride a brontosaurus, check out the pirate ship, swing on an octopus, see-saw with a snake and on a hot day play in the water maze. At weekends and holidays, children can ride on the Tot-Town Railway.

Whanganui Regional Museum
The regional museum has a collection of 350,000 objects that celebrate the natural and cultural history of our region, including all sorts of treasures that amaze and delight kids. The Museum boasts collections dated from 1890 and is famed for its exceptional Taonga Māori Collection. It is home to the largest permanent collection of Moa bones in the world (over 1000 bones), as well as housing an extensive collection of Lindaur paintings. The Museum Shop and Gallery stocks works by local artists and specialises in books on local history, Māori culture and the natural world.

Rotokawau Virginia Lake
Take a 25-minute woodland walk around the lake, find Peter Pan's statue and enjoy the birdlife, both on and around the water. The Winter Gardens is an all‑year‑round attraction with an adjoining Art Garden combining sculpture and garden art. Visit in the evening and see the historic Higginbottom Fountain lit up at night. Add in a children's playground and a free bird aviary and this makes Virginia Lake one of Wanganui's top family attractions.
Kai Iwi Beach
A popular beach for the whole family and all ocean activities, Kai Iwi Beach is reached via Rapanui Road 14kms west of Whanganui. Patrolled during the summer you can swim, fish, laze in the sun, go for long walks and pick through the driftwood. A well-established motor camp is located in the Mowhānau village, with a children's playground, toilet block and wood-burning BBQ's available as well. A recent addition to the beachside area is a driftwood seal created by well-known driftwood sculpture artist Jack Marsden Mayer.

Windermere Farms
In the summer months, visit Windermere Farms, a berry farm that's been operating for over 50 years. Your family can pick your own, grab a berry-covered pancake brunch or some fresh berry ice cream.
Splash Centre
With indoor swimming, recreation and exercise activities all year round for all ages. Spa pools, saunas, a fitness centre, a flowing river and hydro-slides combine with a shallow toddlers' pool to provide the perfect venue for everybody. The Splash Centre also has a 25m heated pool and takes birthday party bookings.
Laser Tag
Similar to paintball with no bullets or bruising, laser tag is great entertainment for kids and people of all ages. This purpose-built venue in the pines is ideal for fun with freinds but also caters to birthday parties, corporate events and team-building exercises.
Durie Hill Tower & Elevator
Sixty-six metres high, the Durie Hill Elevator was built in 1919 and is NZ's only public underground elevator and one of only two in the world. A pedestrian tunnel leads to the elevator and at the top you can catch panoramic views of the Tasman Sea, Mount Ruapehu and Mount Taranaki. Right next to the elevator tower is the War Memorial Tower, which, when climbed, will offer an even more impressive scene for your selfie.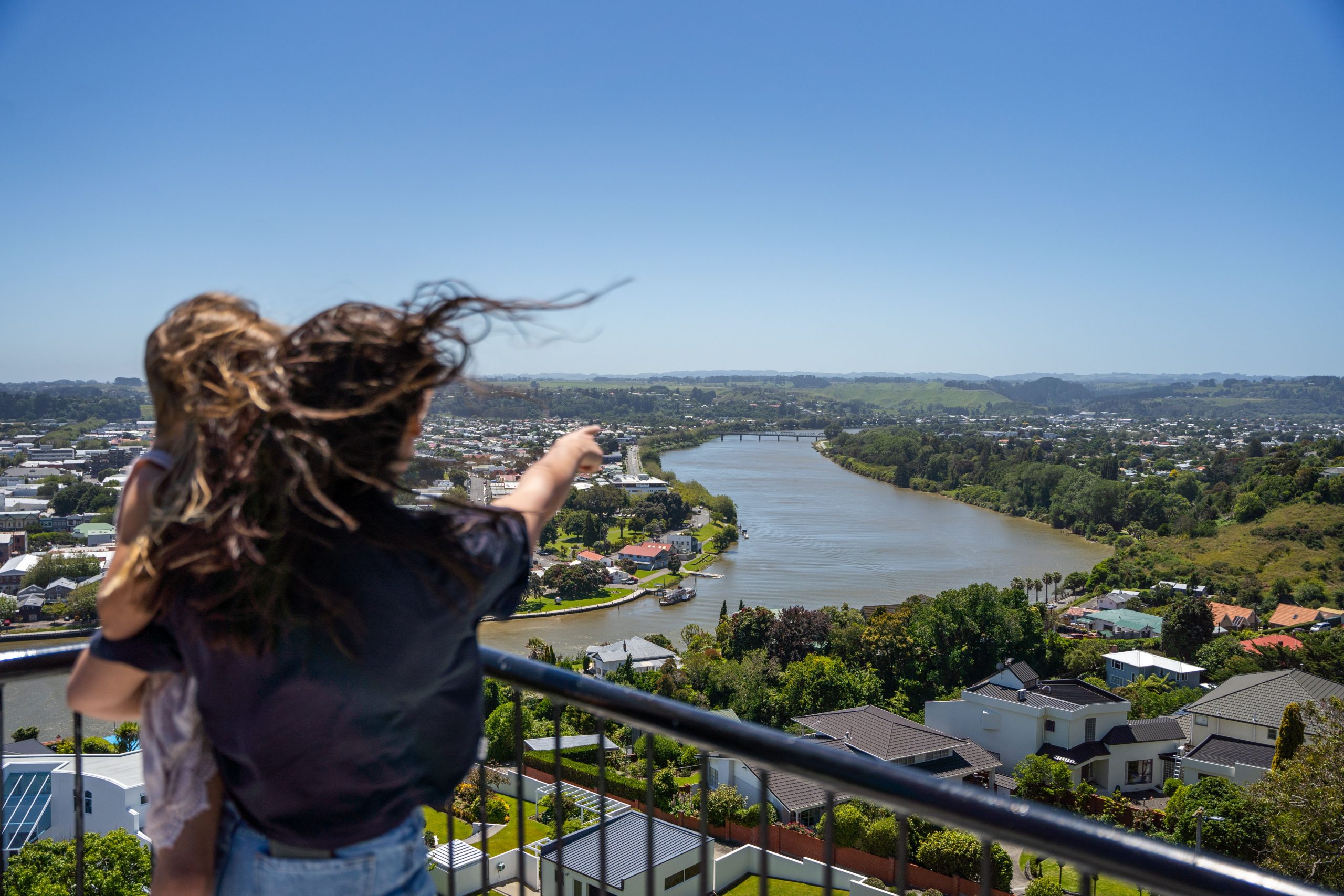 Riverland Family Park
Riverland Family Park is located on the eastern banks of the Whanganui River next to Kowhai Park. The prime location offers a chance for families of all ages to get out doors and have some fun. Activities offered at the Park include: club kart rides for children 7-10 years, action karts for 10 years and older, double go karts – adult with an under 7-year-old, 18-hole mini putt, bicycle hire, E-bikes, bungy trampoline for those 10kg-60kg. Closed shoes are needed for some activities. The park caters for group bookings, school outings, birthday parties, business functions and team building.
River Traders Market
This popular weekend attraction is located in an area of riverbank recorded in history as a busy riverside trading site for local Maori, and recognising this, the access to the area was named by early European settlers as Market Place.
Enterprising people from our region are proud to be continuing this tradition as they set up in the first light of Saturday mornings, with the misty Whanganui River as their backdrop. Incorporating the Whanganui Farmers Market alongside an eclectic mix of items. Today shoppers can buy colourful art and craft, fresh garden plants and products, mouth-watering home baking and preserves, flavour-filled organic fruit and vegetables and a range of other goods. Every Saturday, rain or shine.