'Vallery' boasts an eclectic range of art works collected from the regions' galleries and featuring commissions from local artists, as well as being something of a work of art herself. She's now available for public hire from Quirky Campers NZ.
The camper took six months to develop thanks to an intensive design and build process and a few COVID-related setbacks, but Vallery's curator Aimée Ralfini says the end result was worth the effort.
"I love it when art connects with people outside a traditional white box space. Vallery is a completely immersive art experience; travellers can sleep under art, dine with art and recline on art, and it's all integrated in a comfortable and practical way. We have carefully sealed and protected works, and we have translated art onto hard-wearing surfaces and fabrics so people can just relax and have fun."
Featuring over 50 works by 26 different artists, Vallery represents just a taste of the sheer volume of art to be explored and experienced on the Coastal Arts Trail.
Nine Whanganui artists' work is exhibited in, and on, the gallery-camper. Dr Emma Bugden, Strategic Lead of Visitor Industries at Whanganui & Partners, describes Vallery as a highly creative collaboration to entice visitors to experience art in the region.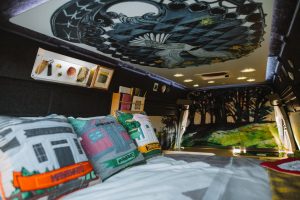 "To have local artists so deeply involved in creating this unique experience for the Coastal Arts Trail is trail-blazing in itself."
Vallery's vibrant exterior is based on a commission by renowned Whanganui ceramic artist Ivan Vostinar. His unique raw ceramic material is made with local beach sand and has been given an oceanic natural glaze. The physical ceramic work has been intricately photographed and recreated to give the whole van the feeling of being a ceramic vessel. Travellers can also enjoy a hot cuppa in one of Vostinar's coffee mugs, found inside.
Textile artist Lauren Lysaght was commissioned to create three unique cushions for the interior, representing the three regions on the trail, and her mix of unconventional landmarks lends a unique perspective to the journey. Travellers will also enjoy miniature sculptural works by K Patricia Taylor, ceramics by Aaron Scythe, a glass 'boombox' by Nicholas Toyne, contemporary jewellery by Frances Stachl, and paintings by Sheila Pearson and Christina McGillan. Even Vallery's keys are adorned with a feltwork key ring by local artist Tina Schurhammer.
The unique concept sparked interest from domestic and international travellers even before Vallery's completion, says Quirky Campers' Leanne Edwards.
"Our customers and followers are always keen to know what the next Quirky van will be. Each is so individual with its layout, style and function reflecting the tastes, wants and needs of its owners. But Vallery has really intrigued people because, inside and out, her look is the result of multiple artists. Even before her launch, with only the concept to go on and a basic description of her features, Vallery has attracted bookings both local and from overseas."
The Coastal Arts Trail is New Zealand's newest and largest arts tourism experience, featuring over fifty stops across the lower west coast of the North Island. From well-known institutions to hidden gems, away from the beaten track, travellers can expect a full range of art experiences. If they're lucky enough to get a booking for the world's first gallery camper, they can also expect to do it in style.
About the Coastal Arts Trail
The Coastal Arts Trail brings together three regions that share a depth of artistic and cultural assets. A partnership between the Central Economic Development Agency (Manawatū), Whanganui & Partners, and Venture Taranaki, the project recognises the importance of kotahitanga, working together towards common goals. The creative industries are a shared strategic focus for all three regions, and this is their most significant collaboration to date.
In the planning for over 5 years, the vision for the Trail was realised with the help of government funding for the recovery of tourism communities impacted by COVID-19*.
The Coastal Arts Trail aims to attract a wide range of people interested in new arts and culture experiences with an extensive collection of public art, street art, galleries, museums, open studios, workshops and events.
The ambitious gallery camper concept is a unique partnership between three public and one private tourism organisation; the Central Economic Development Agency (Manawatū), Whanganui & Partners, Venture Taranaki and Quirky Campers NZ.
*The Tourism Communities: Support, Recovery, and Re-Set Plan 2021/22, is a $200 million tourism support package and an extension of the Government's 2020 Strategic Tourism Asset Protection Programme (STAPP), created to aid the recovery of tourism communities in the wake of COVID-19.
About Quirky Campers NZ
Quirky Campers is a small New Zealand business run by husband and wife team Leanne and Dan Edwards, offering handcrafted campervan rentals. They act as an agent for a collection of friendly and likeminded campervan owners, each with a unique and beautiful vehicle they have lovingly created and want to share with the world. Quirky Campers is all about celebrating creativity, craftsmanship, "made in NZ" and getting out there to see New Zealand's beautiful backyard… preferably in a gorgeous bach-on-wheels!
About Aimée Ralfini
For the last 10 years, Aimée Ralfini has curated visual arts activation platform Art Ache. Art Ache communicates fine art and creative thought to a wide and varied audience through events, social media, digital billboard campaigns, podcasts and other bespoke activations. Through it Ralfini aims to strengthen New Zealand's creative muscle.
As the founder and curator of Art Ache Ralfini has mentored and generated interview podcasts for well over 200 New Zealand artists, from emerging to Aotearoa's most esteemed. She has produced 20 art events, hosted an art radio show for four years (establishing it as viable entertainment), and has her exhibition selection of Tāmaki Makaurau published monthly in Verve.
Ralfini is passionate about the role art plays in society, through her work she strives to make it more accessible and part of everyday conversation. Ralfini wholeheartedly believes artists are the litmus paper of society, changemakers, who create new pathways towards holistic wellbeing. Her reputation for this genuine investment in an artists' work enables her to connect with artists and share their stories on a deeper level.